Top 15 Best Bollywood Comedy Movies
To make others laugh is one of the hardest job in film industry. Comedy movies are always a treat for the audience. A good story, better humor and best direction can burst the laughter out of you. Lets check the 15 best bollywood comedy movies.
We have hand-picked some of the finest modern-day and classical comedy movies of Indian cinema. Mark the missing movies which you haven't watch and witness a laughter saga. Check out the 15 Best Bollywood Comedy Movies.
01 HERA PHERI
The leader of the list is Babu Rao's epic Hera Pheri. In modern era Indian cinema this movie opened the gates for the main-stream comedy movies.
The story is about three persons; Babu Rao Ganpat Rao Apte, Raju and Shyam. Trio always remains in serious financial problems. One day a wrong number calls on their phone and they derive an opportunity to get rich.
Movie wonderfully portrays humor from common man's day to day life.
It is a super hit comprising one of the best performances from the three main casts. Various Bollywood magazines have also rated Hera Pheri as the best Bollywood comedy movie of all time and tops our list of 15 best bollywood comedy movies.
02 ANDAZ APNA APNA

There are very few comedy movies in Indian cinema that have excelled themselves as blockbusters; Andaz Apna Apna is one of them.
This story is about two daydreamers who co-incidentally have a common aim of getting rich by marrying multi-millionaire's daughter. To achieve their objective they try their best. Meanwhile, criminals try to steal the wealth of millionaire.
Andaz Apna Apna is a fun ride with lots of funny moments. All the characters play their part perfectly to make it one of the best comedy movies of Bollywood. Anytime you feel to get a laughter-pill switch Andaz Apna Apna on and relax.
03 GOL MAAL (Old)

What a lie can do is perfectly showcased in the movie Gol Maal, Directed by Hrishikesh Mukherjee.
Gol Maal is a story about a CA graduate who just gets into a job under an employer who is a man of traditional values. He hates men without moustaches and relates it with the character. Story gets interesting when new employee lie to his boss that he has a twin brother. Movie gets into a whole new world with fake mother, fictitious brother and a chase to find the truth.
Gol Maal is over-loaded with comedy moments. It is one of the best Bollywood comedy movies and therefore it is on number third in our list of 15 best Bollywood comedy movies.
04 CHUPKE CHUPKE (Old)

Another masterpiece by Director Hrishikesh Mukherjee who modulated 'He-man' (Dharmendra) and 'Angry Young Man' (Amitabh Bachchan) of Bollywood playing a comic role in one of the finest comedy movies of Bollywood.
Chupke Chupke is a story about a mischievous prank-loving professor Parimal Tripathi who excels in botany. A lot of misunderstandings led professor to doubt on his wife's faithfulness and asks his best buddy, Sukumar to help out by pretending to be Parimal.
It is one of few movies in which legendary actors Amitabh and Dharmendra have worked together.
05 JAANE BHI DO YAARO

The movie is a dark satire on the spreading corruption in Indian politics, media, bureaucracy, and business.
It is a story about two professional photographers Vinod and Sudhir trying to start their own photo studio. Their 1st client comes in form of an activist magazine 'Khabardar' that draws them into the dark world of real estate business. The movie revolves around Tarneja, builder who tries to bribe Municipal Commissioner to grant him a bridge contract. The Municipal Commissioner is also in contact with Ahuja, Tarneja's arch rival. During this all mess up, Tarneja is found dead by the two photographers.
Movie has many hilarious scenes out of which Mahabharat scene is one of the major landmarks.
06 3 IDIOTS

It is one of Bollywood's highest earning movies of all time, grossing a collection of around Rs 1,192 crore. It is a complete entertainer.
The story is about three friends who are the student of an engineering college. Their journey to graduation is not less than any roller coaster ride. The epic comedy punch and good humor make it a genuine comedy film. Overall it is one of the Top Bollywood Movies of all time.
07 PADOSAN

In our list of 15 best bollywood comedy movies, Padosan remains on no 7. It is directed by Jyoti Swaroop which is made in 1968. Since then it is one of the best comedy movie in Hindi cinema history.
It is a story of a simple man Bhola who falls in love with beautiful girl Bindu. Coincidentally, Bindu shifts in next house to Bhola's. Twist arises when Bhola figures out that Bindu's love like is Master Pillai. Then onwards Bhola with the support of his friends try various ways to win Bindu's heart, in the course, many hilarious incidents happen which will twist your stomach by laughter.
Padosan is an ultimate classic and it will be injustice to the cinema world if such a gem is missed.
08 MUNNA BHAI MBBS

National Award for the Best Popular Film and many other Filmfare and Critics Awards justifies that Munna Bhai MBBS is a good movie.
To take revenge of humiliation, goon Murli Prasad Sharma aka Munna Bhai joins Medical College to become a doctor. His life as the medical student creates many laughter moments. Meanwhile, Murli falls in love with Dr. Suman. While the story of a goon turned medical student Munna Bhai, is a lovable one.
09 BHOOL BHULAIYA

Priyadarshan's Bhool Bhulaiya is a comedy-horror film. It is a beautiful movie with some awesome comedy scenes.
Story is about Siddharth who returns from America to visit his ancestral home along-with his wife Avni. After shifting to their manor Avni starts exploring it and opens a forbidden floor and a series of strange incidents starts happening. Therefore, to overcome this problem Siddharth asks his friend Dr. Aditya Shrivastav to help him out.
It is a movie of brilliant performances by actors. Watch it and enjoy it.
10 DHAMAAL

Dhamaal is a complete mad movie with many surprises. It is full of stupid and unrealistic scenes which will surely burst your laughter. Old jokes but perfect timings, copied plot but Indian touch makes Dhamaal a kind of movie which can be watched n number of times. It is on number 10 in the list of 15 best bollywood comedy movies.
It is a story of four men without any work or ambition. Boman, Aditya, Manav and Deshbandhu Roy all four share a room. Eventually, one day they witness an accident of a car where they meet Bose who before dying in accident reveals that a cash of Rs 10 Crore is left at St. Sebastian's Garden, Goa. The one who finds it will own it. Here onwards a race to Goa starts which is hilariously seen in the movie.
11 HUNGAMA

Hungama is another directorial by Priyadarshan. Based on Priyadarshan's own Malyalam film Poochakkoru Mookkuthi, it stars Paresh Rawal, Akshaye Khanna, Aftab Shivdasani and Rimi Sen.
Story is about various characters whose life unknowingly gets tangled with each other. Nandu (Aftab) and Anjali (Rimi) share the room, but in order to get that room they lie that they are married. Radheshyam Tiwari (Paresh Rawal) a rich businessman has a wife Anjali (Shoma Anand). Confusion arises when Jeetu (Akshaye Khanna) falls in love with Anjali (Rimi Sen) who lied that she is daughter of Radheshyam Tiwari. Radheshyam Tiwari gets it to another level by assuming that his wife Anjali (Shoma Anand) is in extra-marital affair with Jeetu. Anjali (Shoma Anand) thinks that her husband Radheshyam Tiwari has an affair with other lady and Anjali (Rimi Sen) is his daughter. These stories are so jumbled up with each other that it creates several uncontrollable laughter moments.
12 GOLMAAL: FUN UNLIMITED

Golmaal is modern day surprise for all the comedy lovers. In addition, it is a humorous treat for the fans.
Four guys Gopal, Lucky, Madhav and Laxman lives together and earns together by conning others. Because of their mischief, they are thrown out of their hostel room. For shelter, they find a refuge in the bungalow of a blind couple. For the blind couple, Gopal's voice and Laxman's body is Sameer their grandson. Hilarious chaos prevails when a gangster interested in belongings of the blind couple take over the house. It is a powerful comedy movie which remains as an always watch kind of a movie. Golmaal series already have three editions and soon in October 2017, the fun-gang is all set for a laughter-riot with the fourth edition of the series.
13 HULCHUL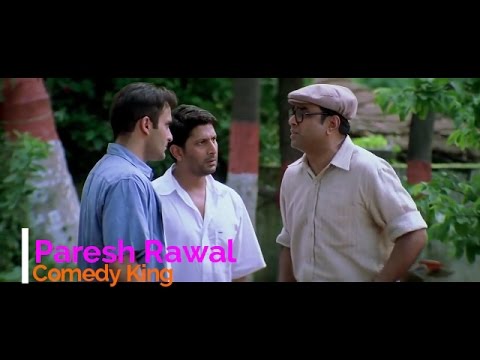 Hulchul a huge star cast movie by Priyadarshan is a laughter riot. It is a great entertainer and a flawless laughter journey.
The story revolves around Angar Chand and his son's life that lives in small town in India. Lakshmidevi is Angar's enemy and both hate each other. While Angar holds a principle that no woman is allowed in his house and family. Lakshmidevi's grand-daughter's marriage is disrupted by Angarchand. So Anjali decides to take revenge and pretends to be in love with Jai. But they really fell for each other. Now they had to make agree their families for the marriage which is equivalent to climb Everest.
14 CHUP CHUPKE

Chup Chupke is a story about Jeetu who is in financial crisis and have lots of debts. In an attempt of suicide, he, fortunately, does not get kill himself. Gundya saves his life and also takes him to hospital. Jeetu pretends to be a deaf and mute. Gundya mortgages Jeetu to a businessman Prabhart Singh. Jeetu falls in love with Shruti who is also mute. Meanwhile, his past again comes in his life. The entire movie runs on a laughter chariot which does not give a single minute of silence.
15 ALL THE BEST
Veer and Prem two friends with two different dreams, Veer wishes to own a band and Prem wishes to design a sports car. But they are low on funds, Veer living with his girlfriend gets an allowance of 1 lakh rupee from his brother Dharam. On a random visit by Dharam at Veer's place creates a hilarious situation. The movie portrays different characters which relate to each other. Therefore, it gets a place in the list of 15 best Bollywood comedy movies.